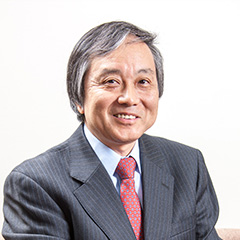 Research fields:
Urban policy-making, crisis management and next-generation planning.
Participated in numerous urban development and regional development projects, in both developed and developing countries.
Currently involved in making urban strategy proposals in consideration of competition between international cities.
Preeminent expert in Tokyo research, and has positions at numerous organizations, including Tokyo's City Planning Committee.
Academic degrees:
Ph.D. in Urban Policy, Urban and Regional Planning
Born in Tokyo in 1947.
After earning a Bachelor of Engineering in Architecture and a Master of Engineering from Waseda University, he received a Ph.D. at the University of Waterloo, Canada.