Broaden local activities from a new perspective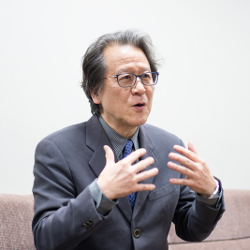 The term "social innovation" has an image of launching large-scale activities aimed at transforming society, but the key on social innovation is to "find a new perspective and put it into practice." Governments may implement massive development projects, and enterprises and wealthy people may make large-scale investments, but there should also be initiatives to start in immediate circles and think about new, interesting ways to build a "good" society.
Mr. Bill Drayton, the founder of Ashoka, an organization to support social innovation, with whom I have had opportunities to discuss social innovation on several occasions, is a key person in this field who has helped and developed thousands of young people who aimed at becoming entrepreneurs. He argues that there are three important points in social innovation: "achieving business viability and continuity," "spreading social innovation through imitating other organization's initiatives," and "effectively using and promoting the national and local governments' systems to bring about new developments."
"Social innovation spreads through imitation by other organizations" is an interesting way of thinking. One example is an initiative of Darrell Hammond, an American who started up an NPO called "KaBOOM!" Raised in an orphanage, he developed the concept that playgrounds should be built in places that can be reached by all children on foot. KaBOOM! compiled a manual to build a playground in one day and initiated activities that allowed many people to work together intensively. Then hundreds of people from various districts gathered voluntarily and built a playground for children in one day by constructing a jungle gym, a swimming pool and other facilities. Through this initiative, over 2,000 parks were built throughout the nation.
Social innovation requires a concept that attracts people, tools that realize the concept, and many collaborators. The secret of success in social innovation is not to transform society drastically and completely but to encourage people in a local community to enjoy working together from a new perspective while sharing the same interest and to engage in an activity that is meaningful to children and the community rather than to themselves. KaBoom! is a good example of this approach.
Social innovation through sports
There are many good examples in Japan, too. In Niigata Prefecture, the Sanjo city government built a natural-grass baseball ground. It is a splendid stadium with a capacity of 14,800 persons. However, it was a waste of valuable assets because it was not used often. Then, out of a desire to contribute to the local community, the president of a small and local company which engages in agriculture or and turf-related business in the city launched an activity aimed at revitalizing the stadium. First, he became the designated (by the city) administrator of the stadium. When they invited minor league professional baseball teams to play there, many spectators gathered and enjoyed watching their games. Furthermore, they invited university baseball teams in Tokyo and vicinities, holding tournaments as summer league at the Sanjo stadium comprised of six universities including Meiji University. Meiji University baseball team enthusiastically agreed to join the summer league. The lineup of each team consists mostly of first- and second-year reserve players—players who have few opportunities to participate in regular games played at Jingu and other stadiums. These players, who are not often allowed to take part in regular games, are given the chance of playing in the tournament of the summer league in Niigata and take the opportunity to play energetically.
The university baseball summer league also arranges games with high school baseball teams at the Niigata local stadium. Although high school baseball teams are no match for their university counterparts, high school students are delighted to be able to play against university team members. With such inspiration, they learn techniques, aim higher, and play harder. Various people put forward ideas, and many people voluntarily offer cooperation to run the city's baseball stadium games, thus making these events exciting. With the stadium as its center, this excitement spreads throughout the community. In Sanjo City, where it snows heavily in winter seasons, residents, including children, organize baseball games in snow, rice cake making, and other events in the falling snow in winter. In Sanjo Town, visiting baseball players stay in the neighborhood hotels during the university team league, thus contributing some income to the local city. Similarly, at Iwate Town, which is now a mecca for ground hockey, players who come from across the nation purchase hockey goods at local sports shops; as a result, economic effects are brought about to local communities.
Iwate town government built an artificial turf ground hockey field, designated ground hockey as the "Town's Sport," and has striven to spread it. Through good efforts by the town's board of education, hockey was introduced as part of the official physical education program at elementary and junior high schools, and many children now have their own hockey sticks. Some of the town's hockey players achieved good results at national, international and Olympics. Today, Iwate Town is widely known as a "hockey town" among the parties concerned and is chosen as a venue of various hockey tournaments, including national athletic meets and inter-scholastic athletic competitions, and these lead to revitalization of the town and town's economy.
The secret of these great successes is that ground hockey is a minor sport compared to baseball and soccer. While there are more than 150,000 baseball or soccer players at high schools nationwide, there are only a few more than 2,000 ground hockey players. However, by daring to choose ground hockey, which has only a small player population, as the Town's Sport, the Iwate town government made a striking impact on the sport community. The joy of ground hockey is widely shared among the people of the town, giving rise to many citizens' teams and the promotion of town's pride among town's people. Interestingly, there are a hockey team in Iwate City called "Grandmas team" whose memberships are restricted to women aged 70 or older. The town has used ground hockey as a new tool for revitalizing its community, and this initiative is a wonderful example of social innovation.
Enhance relationships and bring about a new development within them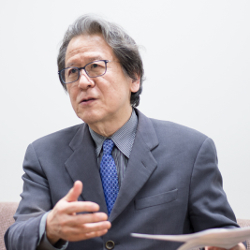 One tends to consider sports as an activity in which unusually talented people go through steady, rigorous and hard programs of toughening-up exercises to play at the highest level of technique in Japan and at Olympic Games. As in Sanjo City and Iwate Town, however, people feel excitement and get a sense of achievement by engaging in local sports. Obviously not—all of them are highly talented. However, the earnest efforts involving their communities and a sense of fulfillment is very precious. In sports, regardless of differences in the level of techniques, players experience the ruthlessness of competition and feel vexed and motivated to win in the next game when they are defeated. Moreover, they enjoy playing sports whatever the level; and the sense of achievement they feel after games is refreshing and satisfying whether they win or lose. This enlivens the community and leads it to integrated feeling and revitalization. A brilliant scenario is being put into practice as sports strengthen ties among community members and improve their society under regional revitalization strategies that often involve local governments.
Of course, grass-roots regional activities using sports as a tool for revitalizations do not always bring about innovation. Innovation means giving rise to something that could not be done or conceived before, through diverse relationships, ideas and efforts by many people. This requires various ingenious ideas, determination not to give up even if things do not seem to go well, and support from people in immediate circles. For example, the small to medium size local company which was designated as administrators for the baseball stadium in Sanjo City mentioned above suffer a loss in the area of "businesses other than their core business," but as sports-related business opportunities grew with the cooperation of various local enterprises and the understanding of social groups with close ties to the community, the local company achieved increased sales and profits overall since 2011 (achievement of "business viability and continuity" as advocated by Drayton). The summer league at Sanjo became a trigger for the support from the local government (such as subsidies and free shuttle bus services), cooperation from local sports associations and the Japan Amateur Baseball Association, assistance from former baseball players and enterprises in the prefecture, and development cooperation funds from visitors. Moreover, impressed by the enthusiasm of local people in Niigata, senior student members of Tokyo Summer League teams have organized a team to bring fresh ideas and new planning to promote summer league games. These efforts and initiatives of students offer extra motivation for students to continue interests and motivation for local summer league games.
"Takatsu SELF," a sports club in Kawasaki City, Kanagawa Prefecture, enables organizations such as administrative agencies, schools, boards of education, and NPOs to work together through mutual trust to provide all citizens from infants to the elderly opportunities of enjoying a wide variety of sports almost every day using gymnasiums and grounds of junior high schools located in the city. Facilities are needed to enjoy sports, and in Japan, where there are not enough sports facilities available, the key to success is to allow people to use facilities of public schools. However, school principals, teachers, and boards of education tend not to be positive for letting local people use school facilities because various problems often occur if they permit citizens to use school facilities. Takatsu SELF, which obtained corporate status as an NPO, has successfully become a designated administrator and undertake a service of managing local school facilities on contract (earning tens of millions of yen in outsourced management income annually), maintaining good and favorable relationships with school administrations, NPOs, and local residents.
The citizens' baseball stadium in Sanjo City, the town-owned hockey ground in Iwate Town, and flexible use of school facilities in Kawasaki City have all realized two principles as advocated by Bill Drayton: "Achieving business viability and continuity" and "effectively using and promoting the national and local governments' systems to bring about new developments which lead to satisfactions and sense of cooperation by people in local communities." There are also an increasing number of cases in which, for example, Takatsu SELF and other sports facility management NPOs learn ingenious ideas and strong points from one another, establish favorable relationships with administrative agencies and city governments, thus enabling to offer excellent sports activities. It seems that Japan, where social innovation is not yet so prevalent, is starting to enjoy the fruits of social innovation through the power of local communities.
* The information contained herein is current as of January 2018.
* The contents of articles on M's Opinion are based on the personal ideas and opinions of the author and do not indicate the official opinion of Meiji University.
Information noted in the articles and videos, such as positions and affiliations, are current at the time of production.