Is there no future for Japan's agriculture?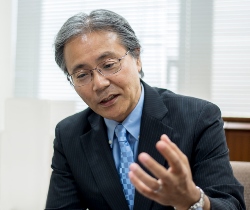 Japan's agriculture is said to be confronting a difficult situation. For example, there is the influence of trade liberalization. The entry of a large volume of cheap overseas agricultural products is a threat to Japanese agriculture. Some people hold the opinion that even if Japanese agricultural products are somewhat expensive, they can compete because of their high quality, but the quality of overseas agricultural products is also rising. Moreover, there is a growth in demand for eating out, home-meal replacements (prepared foods), and processed foods, but in order to meet this demand, a constant volume and quality of raw agricultural products must be secured. Although production of processed foods using varieties specially grown for the purpose, such as tomatoes for making juice, takes place in this country, leftover or off-specification produce that could not be sold on the market has often in fact been used, so the production system has not necessarily been the most suitable one to supply raw materials. In the light of such a situation, it is surely possible that much overseas agricultural produce will come into the country if there is stability of price, quality, and volume.
Furthermore, it is often pointed out that the aging of the agricultural workforce and the small-scale subsistence farming which currently prevails make the situation severe. Is there, then, no hope for the future of Japan's agriculture?
A move to reconsider the value of agriculture
If we turn our attention to what is happening on some regions, we see that ambitious initiatives are taking place in each area, and that there are examples of the growth and development of individual agricultural management and of the revitalization of farming communities. For example, farmers' markets are popular, and there are cases where profits have risen rapidly. During the era of rapid economic growth in the 1960s, the big cities were overflowing with goods that could not be found in farming villages, and the residents of the latter dreamed of the metropolis. However, recently, anything available in the city can also easily be obtained in the country via mail order. Rather, people living in the big cities have come to discover the value of items that they can only obtain in the countryside, such as ripe, fresh vegetables. Farmers, who used only to deliver their produce to the agricultural cooperative, have also begun using other means such as processing their produce or selling it directly to consumers. Also, laws and initiatives to promote collaboration between agriculture, commerce, and industry, or the development of "AFFrinnovation" (the sixth industry; It is business which agriculture, forestry and fisheries workers take processing and direct sales of their products.), have been put in place to back up these moves.
Moreover, although relative evaluations comparing agriculture with other industries may exist, there is an argument that agriculture is a growth industry. Setting aside the issue of whether or not it is a growth industry, there have been many recent examples of companies from other sectors entering the agricultural sector. Retailers or the restaurant industry grow vegetables for their own stores. Rail companies enter the agricultural industry, or support regional agriculture directly, with the aims of regional revitalization, the securing of employment opportunities, or the growth or maintenance of customer numbers. Companies with unused resources of land or personnel set up farms or start plant factories. The reasons are varied, but it can be said that agriculture is being reassessed.
I believe that this is a different face of Japanese agriculture from the one that is said to be confronting a tough situation, without hope for a future. In my opinion, plans based on a long-term perspective and the accumulation of effort and ingenuity are important for a strong Japanese agricultural sector and farming villages.
Rice paddy "soil fertility" prompted by cold weather damage
In 1980, the Japanese archipelago was swept by cold weather that damaged rice crops, resulting in a poor harvest centered on the Tohoku region. However, within the same area, there were rice paddies which produced almost the same harvest as in a normal year, right beside those which did not produce even a single grain of rice. One factor which was adduced for this was a difference in "soil fertility." Some rice paddies which depended on chemical fertilizers and were short of organic materials produced zero harvest, and this was expressed as the degrading of "soil fertility." The difference in yields caused by cold weather damage was also related to the variety of rice planted and to water management, but it taught us the importance of applying a sufficient quantity of organic materials, in particular fully ripened compost. Compost is piled up, fermented straw, fallen leaves, and so on. Animal droppings (manure) and food residue are also sometimes used. It is essential for growing vegetables, but its handling and application require effort. The progression of labor saving in rice farming also led to a tendency for compost to be lacking. When the weather conditions were good, this was not so noticeable, but it was exposed by the unseasonably cold weather.
Applying compost this year does not mean that next year's harvest will increase. Even after expending considerable effort, the results are not immediate. It is through accumulated labor, the continued application of compost, that the power of the land, or "soil fertility," increases little by little. On the other hand, I believe that it is for this very reason that "soil fertility" manifests itself gradually and can mitigate the influence of changes in weather conditions. When I carried out a survey, I found that farmers assess the rise and fall of "soil fertility" not only from yield relative to area, but also by past labor input and the cumulative application of compost over time. In this sense, I believe that what is important to agriculture is the accumulation of effort and sustainability, not simply the pursuit of immediate profit.
"To cultivate" is "to continue"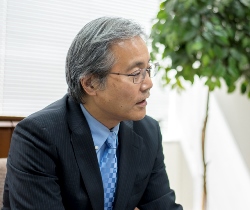 The entry into agriculture of companies from other sectors, collaboration between agriculture, commerce, and industry, and the development of "AFFrinnovation" are likely to strengthen Japanese agriculture.
Furthermore, whether because of a reconsideration of agriculture or a growth it its value, the number of students applying to agricultural departments is increasing. This may be a sign that this generation, which comprises the grandchildren of the elderly people in their seventies and eighties who are now responsible for agriculture, is aiming to take over from them. I hope that these trends and aspirations will continue and solidify.
It seems to me that the tendency to expect rapid results from various endeavors has become stronger lately. However, through soil cultivation that leads to "fertility," agriculture cultivates sturdy animals and plants, and farming villages cultivate people, cultures, and regions. "Cultivation" requires continuity and time. In other words, in the same way that farmers cultivate soil, continuity and time are necessary to cultivate people and regions. I will also add that it takes time for the effects of "soil fertility" to appear, but the use of chemical fertilizers makes it difficult to grasp the extent of its deterioration.
Just as farmers work to cultivate the soil, I would like society to take the time to cultivate agriculture. Furthermore, I believe that the concepts of "continuity" and "sustainability" in agriculture are perhaps what most need to be reconsidered at this time by Japanese society as a whole.
Information noted in the articles and videos, such as positions and affiliations, are current at the time of production.