When I First Became Advisor to the Track and Field Club: Watching the Club Practice While Mowing the Grass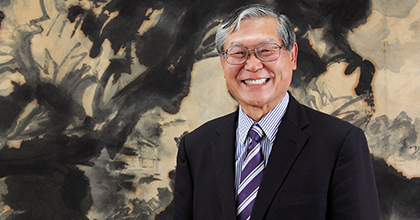 I was named the advisor to the Track and Field Club exactly 20 years ago, in 1995. As I prepare for retirement after 43 years as an educator, I realize I have spent about half of my career in the Track and Field Club. Unfortunately, when I took the position of advisor to the club it could not be described as strong by any measure.
The first thing I did as advisor to the club was to go to take a look at the track where we trained. Looking at the actual track, I saw that it was covered in grass as high as me. I knew that I had to start by doing something for the track. As a son of a family that had farmed for three centuries, I purchased a high-performance mower from a manufacturer that was on friendly relations with my family, at a price of about 600,000 yen, and then I started mowing the wild track. When I called to the club members asking them to help out, they first replied, "We've got to practice." I felt like I was being treated like an old gardener. Even now I recall what hard work it was, with the mower's engine cutting out in the face of the thickness of the grass or the mower breaking down when the blades snagged on a hammer left in the grass from hammer throw practice.
"Why is Meiji so weak?"
I observed the club intently for a year while mowing the grass. The first thing I noticed was that the club could not attract good athletes because its record until then had not been good. As a result, the coaches were not making much effort either. The club also lacked funding. A recent best-selling book tells the story of how a girl managing a high school baseball team turned it around after reading Peter F. Drucker. I felt the same way at the time. There would be no way we could win without the people, things, and funds we needed. While my specialization is in accounting, I felt that rebuilding the Track and Field Club might involve putting into practice the principles described in the numerous books I had read on management.
The Club's people consisted of its coaches and athletes. Its things were the training camp and the athletic ground. Its money was its war chest. However, when I started the Club had no funding. My allowance as advisor was very small. While of course I did not need the allowance, there was a need to have some kind of war chest if the Club was to become a strong one.
I asked myself what to do to secure the people, things, and funds the Club needed. While I had resolved that the only choice was to do what I could, one at a time, it seemed overwhelming. Still, I started making progress, thinking that if I didn't begin the process then nobody else would do it for me.
Management of an Organization Depends on Its People, Things, and Funds : Making Steady Progress Starting with What Could Be Done, As Soon as the Objective and Means Were Visible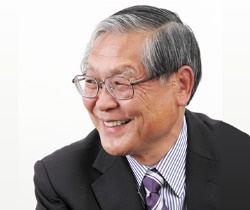 The first topic to address would be the Club's people. It would not be possible to change the Club's student membership overnight. If so, I thought, then I should start with the coaches. Even in high-school baseball, it is the schools with strong coaches that are strong in competition. I asked the existing coaches to leave and then contacted some enthusiastic alumni who were former Club members. Many accepted the challenge, all of whom were full-time salaried workers aged in their 30s and 40s. While the new organization had started to take form, when we started actual activities we would have to take them away from their homes on weekends. Their wives continually asked me to let their husbands spend time with their families. I didn't know what to do.
The next issue was money. I decided to form a club to support Meiji University's efforts to compete in the Hakone Ekiden long-distance road relay. Gathering together a number of noted people I knew, they all said they wanted to see runners wearing "M" uniforms competing in the Hakone Ekiden. I was able to put together a group of prominent people including Kyoichi Egashira, founder of the Royal Host restaurant chain, the songwriter Yu Aku, baseball's Sen'ichi Hoshino, and the chairpersons of the Meiji University associations of tax accountants, accountants, and attorneys. The funding raised in this way was gradually put to use to purchase materials and build a foundation for funding tours and recruiting athletes.
Then, in 2001, we encountered a major turning point. I had the opportunity to persuade current Track and Field Club Ekiden Coach Nishi, an outstanding professional coach, to join the Club. Determined not to miss this opportunity, I asked Mr. Nishi repeatedly to coach our ekiden efforts. After pleading with Mr. Nishi, who said he had been considering coaching a corporate team, he said he would give it a try, overcome by my enthusiasm. Even today I get tears in my eyes when I recall that moment. Not only does Mr. Nishi have outstanding coaching methods but he also is known for sincerity, and I felt that this was likely to strengthen our team gradually.
In 2003 the Board of Trustees decided to allocate to the Track and Field Club some funds intended to enhance the University's athletic activities, and as a result the Meiji University Track and Field Club, which at one time had completely lacked in terms of people, things, and money, at long last had met the preconditions for being able to compete.
Overwhelming Emotion and Interpersonal Ties : Nothing to Lose from Working Insanely Hard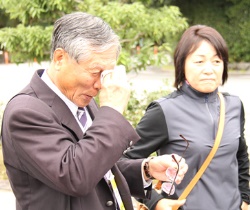 "Effort will never let you down"
I think that this is something that can be said of both management of the Track and Field Club and the individuals who practice repeatedly as athletes. By diligently overcoming one difficulty at a time, the Track and Field Club succeeded in its goal of being selected to compete in the Hakone Ekiden in 2005, exactly 10 years after I had taken the position of advisor. That year we came in 18th place. While this represented something of a booby prize since there was only one team behind us, it represented the moment when at long last the "M" uniform had returned to the course. It had been 14 years since the last time we had competed, in 1991. The first step toward a return was very important. Thanks to the hard work of the athletes, the leadership of the coaches, and the support of the student body, alumni, and related parties, Meiji would gradually move up in the results from that first step. I felt that my job was halfway done.
Before becoming advisor of the Track and Field Club, I had been a prosaic man who only liked feeding my students. This is why I adopted a style of doing what needed to be done, when it was needed, working behind the scenes together with my wife.
Looking back now, we took in countless students who dined and stayed with us. Thinking of the subject of feeding the students, a recent athlete who comes to mind is Tetsuya Yoroizaka (who graduated in 2012 with a degree in management). Today he is on the team of Asahi Kasei Corporation. While he was diligent in his studies and practice after entering the university, it somehow seemed like he was skipping lunch. My wife practically forced him to eat, urging him, "You must eat for your health." I cannot forget the way he ran directly into my arms after crossing the finish line, still covered with sweat, shouting "We did it!" when in 2012 Meiji overtook Waseda University for third place at the finish of the Hakone Ekiden.
In the end, it makes us happy to achieve results. All the challenges and difficulties we have endured vanish in an instant. Over these past 20 years, I have recognized anew the importance of effort and had so many moving experiences with our athletes that I could not begin to count them. This has resulted in building many strong interpersonal ties as well. Recently teams have become able to compete in leading ekiden races consecutively across Japan, and many people across the country tell us they have been looking forward to seeing Meiji appear. While I would like to say I feel truly satisfied to my heart's content, the only goal we have not yet met is that of taking first place in Hakone. If we win first place this time, I could die happy right then. Having seen a Meiji victory, on my deathbed I could tell my old wife, who attended Meiji with me, "It's been a wonderful life."
I will leave my position as advisor to the Track and Field Club with my retirement at reaching mandatory retirement age. However, as long as I am in good health I would like to continue to support the Club silently in some form. While I cannot say whether or not we can take first place because winning and losing is an uncertain affair, I definitely would like to encourage everybody to watch with their own eyes the Meiji University Track and Field Club running as hard as it can in Hakone.
* The information contained herein is current as of December 2014.
* The contents of articles on M's Opinion are based on the personal ideas and opinions of the author and do not indicate the official opinion of Meiji University.
Information noted in the articles and videos, such as positions and affiliations, are current at the time of production.