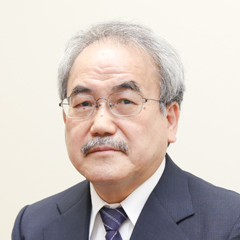 Research fields:
Urban disaster prevention, disaster restoration, city planning
Academic degrees:
Ph.D. (engineering)
Born in Fukui Prefecture in 1947. After withdrawal from the Tokyo Metropolitan University Graduate School of Engineering in 1975, served as a teaching assistant and an assistant professor at that university. Appointed a professor of the Tokyo Metropolitan University, Center for Urban Studies in 1993. Appointed a professor and head of the Graduate School of Urban Studies of the Tokyo Metropolitan University in 1999. Named a professor in the Faculty of Urban Environmental Sciences of the reorganized Tokyo Metropolitan University in 2005. Named to current position with Meiji University in 2011.

Main books and papers:
◆Author of numerous books and papers, including the recent books Saigaitaiou hando bukku ("Hand book of disaster response")(Horitu bunkasya, coeditor and coauthor, 2016), Kikikanrigaku ("Risk management studies") (Dai-Ichi Hoki, coauthor, 2014)
◆Shichosongappei to chiiki bosairyoku no kudoka ("Merger of municipalities and the hollowing out of regional disaster-prevention capabilities") (Minerva, coauthor, 2013)
◆Anata no toshi ni jishin ga kitara do shimasu ka ("What would you do if an earthquake struck your city?") (Magazine House, 2012)
◆Presented with a Prime Minister's Award in 2014 for contributions to disaster prevention.