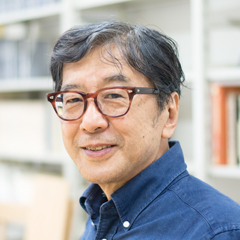 Research fields:
philosophy, anthropology, Buddhism, and others
Brief biography:
Born in Yamanashi Prefecture in 1950. Completed the doctoral course at the Graduate School of Humanities, University of Tokyo without a doctoral degree.
Related links:
Institut pour la Science Sauvage, Meiji University: http://sauvage.jp
Shinichi Nakazawa's Archives: https://nakazawashinichi.blogspot.com
Main books and papers:
Mozart in Tibet (Suntory Prize for Social Sciences and Humanities); A Baroque Thinker in the Forest (Yomiuri Prize for Literature); The Philosophy of Tōhoku (Saito Ryokū Award); Philosophia Japonica (Ito Sei Prize for Literature); Cahiers Sauvages (5 volumes, awarded the Kobayashi Hideo Prize for Vol. 5, Symmetrical Anthropology); On green Capital; The King of the Spirits; Earth Diver (Kuwahara Takeo Academic Award); Art Anthropology; Wild Science; and The Earth of Japanese Literature. More recent works include Dicisive moment of Kumagusu and Eaeth Diver; Holy Site in Tokyo. In recognition of his research achievements, Nakazawa was awarded the 26th Minakata Kumagusu Prize (Humanities Category) in May 2016.