The lack of a sufficient number of attractive competitive sports may be a reason for the low rate of adult involvement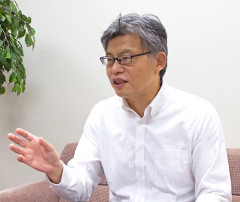 In Japan, the popularity of modern sports has grown by being politically incorporated into school curricula since the Meiji period. Community sport activities are called "social physical education," and have been considered activities that serve to cultivate the "the sound development of mind and body of citizens and the formation of the bright and prosperous life of the citizens."
However, the word "sport" comes from a Latin word, "deportare," which is said to have meant initially "pleasurable entertainment, amusement, and diversion" in England, the home of modern sports.
Therefore, when it comes to sports, the British people are said to think more broadly than Japanese people think. For example, what we called "mind sports" such as card games and board games are also fine "sports," for the British.
As modern sports moved further and further away from the initial meaning, they were rationalized and organized, aspiring to becoming competitive sports. While in the latter half of the 20th century, a type of sports called "new sport" was developed, intended for the casual enjoyment of sports as recreation without worrying about winning or losing. Examples of the new sport include gateball, ground golf and flying disc games.
Around the same time, "parasports" were also developed for persons with disabilities for their rehabilitation and recreation.
In the 21st century, "extreme sports," such as snowboarding and freestyle skiing, have developed and gained popularity among the youth culture.
As just described, sports have been created or "hacked" (altered, refined) to respond to the needs of people and society. The rules of the existing traditional modern sports have also been changed and modified on a constant basis in line with the times.
Even so, the rate of adult involvement in competitive sports is slow to increase – This may indicate that the development and modification of new products are not keeping up with the needs of the people.
In other words, the reason for the low increase in involvement with sports may be that attractive competitive sports are not sufficiently available.
Although baseball, soccer, basketball, etc., are attractive enough and there are many people playing them, the power of appeal of such sports is limited.
We tend to think of the phrase, "promoting sports," as increasing the rate of involvement in existing sports. Considering the fact that sports have indeed been developed by increasing the number of sporting events, even newer events and ideas may be needed.
Sports Co-Creation with citizen participation has begun
In recent years, there has been a movement to create new sports. The members who participated in the "Niconico Chokaigi," an annual unique festival, held in 2014, started three types of activities: "Yuru Sports", "Superhuman Sports" and "Future Undokai Project." As a member of the board of directors, I am involved in the Undokai Association, which organizes the "Future Undokai" events.
"Future Undokai Project" was advocated by Hiroshi Inukai, a game creator and self-proclaimed "Ungaku-ka"("運楽家" in Japanese) and was first held in 2015 at the Yamaguchi Center for Arts and Media (YCAM) in Yamaguchi Prefecture. The event was subsequently held again twice in Yamaguchi, as well as in Kyoto, Osaka, and Shibuya in Tokyo.
The event usually takes place over two to three days. On the first and second days of the event, 30 to 40 "developlayers" (a word Inukai created by combining the words, "develop" and "player": People who create and play their own sports) gather and create sporting events to be played for Future Undokai. This is called the "sports hackathon."
As such, the day is comprised of playing newly created sporting events which are played by 150 or sometimes more than 200 participants on the last day.
Some of the latest devices are also used for the hackathon, with some engineers and programmers developing their own devices to be used for the hackathon.
Some competitive sports use such devices, including a relay that competes based on the number of vibrations of a ball, which is measured using a built-in smartphone (https://twitter.com/ycam_jp/status/926988488460746753), and a game which combines motion pictures and projection mapping to recognize the location of the players (https://twitter.com/ycam_jp/status/927004948180512768).
In addition to these latest devices, new sports are created using all sorts of things from equipment used in existing sports and sports day to tools that have nothing to do with sports. We bring ideas of events to the table so that anyone, including persons with disabilities, can participate.
On the day of Future Undokai, a presentation is given by developers to participants. Since all the sports are newly created, possible questions regarding safety or things hackathon members did not notice may follow after the presentation.
In such instances, we exchange ideas and opinions on the spot, and may change the playing rules. Everyone participates in creating "new sports" in this manner.
In fact, some events did not turn out very well when played by large numbers of participants. Failure is unavoidable in development. Such "accidents" are also an integral part of Future Undokai event.
The newly developed sporting events are archived as "public domain," available to anyone at anytime, anywhere (http://ycamsportshackathon.tumblr.com/). I mentioned earlier there are not sufficient numbers of competitive sports. This is the reason we will create sports in which everyone can participate. We call this Sports Co-Creation.
If players become just "consumers," the development of sports will be stunted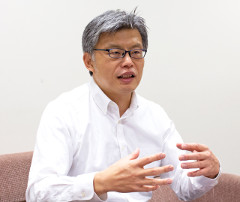 Many of the regular Future Undokai participants have shared that their perspective on sports has changed.
A junior-high participant also agreed to this, mentioning that his attitude toward participation in school sports club activities has also changed – he has become more proactive.
Many of the participants in sports hackathon always liked sports while there are also participants who have not been good at sports and therefore did not care for physical education classes. But even those people think that they can participate in a sports hackathon. Bringing ideas has nothing to do with one's physical strength or athletic abilities.
The Yamaguchi Center for Arts and Media (YCAM) provides the sports hackathon program during the period for integrated studies at elementary schools in Yamaguchi Prefecture. A teacher in charge of this program explained that students who were once obscure in their classrooms have suddenly become openly active.
The teacher continued that children who are good at sports obviously enjoy participating in the program. However, the ideas of those children tend to focus on existing sports, and therefore will not be adopted. On the other hand, children who are smart but usually quiet, or are not very good at sports, start speaking up proactively, and come up with fun and innovative ideas, leading the sports hackathon, and it is impressive.
I think the potential of "Future Undokai" and Sports Co-Creation may be the proactive involvement of people who possess such fresh talent.
The development of sports will be stunted if all players become just "consumers." If many more people start participating in Sports Co-Creation, and the idea that they can create their own sports and even change rules will spread, "sports" in Japan will be further enriched.
Let me add a few words to conclude. Recently a phrase, "Athlete first," is often heard. But I see this as an acknowledgment that "athletes are consumers." It is a shame, especially, that top athletes claim, "Athlete first."
* The information contained herein is current as of January 2019.
* The contents of articles on Meiji.net are based on the personal ideas and opinions of the author and do not indicate the official opinion of Meiji University.
Information noted in the articles and videos, such as positions and affiliations, are current at the time of production.