Intercultural education is not an issue pertaining to non-Japanese people alone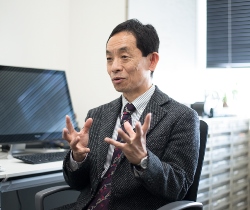 My research field is intercultural education. In particular, I study people who have come to Japan from different cultures, such as international students from overseas. As part of my research, in 1988 I organized an association of volunteers who provide support to people who have come to Japan from overseas. While this association attracted a wide range of participants, including students and homemakers, communication between male and female members and between different generations did not proceed very smoothly. For example, one man who might be called cosmopolitan because of his experience in having been posted to numerous countries during his business career joined the association after his retirement. He ridiculed the way the association handled its accounting as resembling "an old lady's housekeeping account book." Of course, this did not sit well with members of the association who were homemakers. It seemed that even though he was considered a cosmopolitan person, he was unable to understand how the volunteers from the local community participated in diverse ways, doing the best they could. Thinking over this, I realized for the first time that intercultural education might not be an area that involved only people from outside Japan.
Accordingly, in classes at my previous school I began having students meet and speak with people, particularly those with whom they might have only once chance in their lifetimes to meet, and then present their experiences in a workshop. They spoke with a wide range of people such as homeless, gays, and Catholic priests. In doing so, most students were shocked by the gap between their preconceived images and what they observed by actually meeting and speaking with different kinds of people. As I came to see the theme of intercultural education to include not only international considerations but also the cultural edges that surround us at all times, my research interests broadened further.
The Human Library experience, stirring people directly at a deep level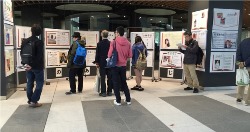 A scene from the Human Library
I was shocked when I first learned in 2008 about the Human Library. This is an event in which individuals serve as "books" whom "readers" can "borrow" for 30 minutes each to hear them talk about their important experiences. When I brought it up to students in my seminar, following a lively debate they decided to give it a try. Since then, it has been held on a Sunday around the end of November in almost every year, and during the eighth session in 2016 more than 300 readers gathered to borrow 34 human "books." The event took up an entire building on the University's Nakano Campus, with the "books" standing by to speak with readers inside private rooms along with a wide range of other events including the chance to experience what it's like to walk with a prosthetic leg, to play an audio and visual hallucination card game, and to spar with professional wrestlers who have disabilities. Human Libraries are held in more than 70 countries worldwide. In Japan, in addition to Meiji University, a number of other universities, libraries, welfare councils, and other institutions organize them. I think that they have been held about 50 times in total in Japan, but Meiji University's is the country's largest.
All tasks from preparation through operation are handled by students in the Yokota Seminar. They meet numerous times with the people volunteering to serve as books, to deepen understanding, and they visit local companies and shops to explain and help them to understand the event. As a result, today we are able to receive cooperation in a wide range of forms, including fundraising. Through activities such as these, the students undergo considerable growth. They learn to understand intuitively that diversity among human beings is a good thing. More than a few students have described their honest reactions such as, "At first I felt sorry for the 'books,' but that was a mistake. They live life in positive ways despite having had experiences that I would not be able to withstand. They're so strong. Human beings really are amazing." Today, there is a boom underway in active learning. Personally, I think that the most important part of active learning is having experiences that offer a high degree of ego-involvement. For example, while one can have a soul-stirring experience by reading a book, encountering something firsthand with the senses results in an experience that is life-altering at a deep level.
It is not only the students who grow through this event. Most of the people who have served as "books"—itself an impressive thing to do as it involves talking about one's own life—have said that they would like to do so again the following year. Some of the "readers" even came from Kyushu by airplane. Almost 100% of them said they wanted to come back again next year. While I think that it would be difficult to eliminate completely bias against those who differ from ourselves, I believe that if we can grow relationships of mutual understanding, then eventually we can achieve an environment in which human beings can trust each other.
Is being a member of a minority something unnatural?
There's a way of thinking in the welfare societies of Scandinavia that can be described as follows: Wheelchair ramps must be built next to all steps, so that people who use wheelchairs can play active roles in society. But even if we build wheelchair ramps, it is only a very small percentage of the public as a whole (i.e., a minority) who will use them. So isn't it wasteful to build wheelchair ramps? Shouldn't those funds be used to benefit the majority instead? But is there any society or community in which there is not one person who uses a wheelchair? If we found such a society or community, wouldn't that be even more peculiar? If it is natural that there will be some people who use wheelchairs, then isn't it also natural that urban development should be suited to that natural occurrence? This is the concept of normalization, which says that instead of building facilities for the larger number of users, they should be designed to be suited to conditions that naturally are likely to occur. This concept can be said to be a fundamental way of thinking not just in the sphere of welfare but also for any community in which diverse people live.
Incidentally, what are the grounds for referring to such people as a minority? While people might be considered a minority because they use wheelchairs, in other aspects they might be members of the majority. Even if we determine that somebody is a member of a minority for a particular reason, that reason does not describe everything about the individual. Everybody is a member of a minority in some ways and the majority in others. That's part of being human. However, today most people live their lives pretending that they are members of the majority in every day. That's because being recognized as a member of a minority makes it harder to live one's life and make a living. But living in this way, pretending to be a member of the majority, cannot be described as living life one's own way. Isn't such a state in which it is difficult to live one's life without hiding the natural diversity of human society truly more unnatural?
Utilizing diversity as a source of vitality in business
Recently, an increasing number of companies see diversity as a source of vitality. It would seem that employees can work with greater vitality if the company accepts them the way they are and asks them to demonstrate or be themselves to the best of their ability. When a company invests in diversity, it is not because of demands that it do so but because a corporate culture that recognizes each employee's individuality helps employees to be proud of their company and to work with greater vitality. A society in which people accept each other is a healthy and vital one. I believe that the Human Library is an extremely effective opportunity for learning this lesson.
Actually, a large company has asked to send its employees to the University's Human Library as "readers," for training purposes. Our Human Library is open to the public. I would encourage everybody to come and take part in this experience that touches the very roots of diversity.
* The information contained herein is current as of March 2017.
* The contents of articles on M's Opinion are based on the personal ideas and opinions of the author and do not indicate the official opinion of Meiji University.
Information noted in the articles and videos, such as positions and affiliations, are current at the time of production.